Google has done it again! Google does not seem to be stopping anywhere when it comes to the updates. Google is always on the go when it comes to making changes for the better user interface. From the past few months, Google has rolled out a series of new updates for the Responsive Search Ads which include more languages and new reporting tools.
Back to Basics:
Responsive Search ads are the biggest and most flexible ad format introduced by Google. While writing traditional ads we use the headlines and text together to create a static ad but in Responsive Search ads we can write up to 15 different headlines and up to 4 different descriptions. In the case of the responsive search ads, the testing possibilities are endless as all 15 headlines and 04 descriptions can be arranged in 43680 different permutations.
With the available headlines and descriptions Google will automatically test which headline and description when combined together is giving the best results and with time it will present the best ad to different searchers depending on which keyword they are searching, on which device, their past browsing history and other factors.
Added Benefits of Responsive Search Ads:
The responsive search ads can show up to 3 headlines of 30 characters, a display URL with 2 path fields of 15 characters and 2 description fields of 90 characters. So that's a lot of characters for an ad.
In addition to that you can also use the ad extensions in the Responsive Search Ads which increase their presence even more on the SERP.
How To Create A Responsive Search Ad:
You can still see Responsive Search Ads in beta and can be created in certain accounts only, not in all.
Now to create a Responsive Search Ad in Google Ads, you need to click on the ad tab first and then hit the "+" sign to create a new ad and select "Responsive Search Ad".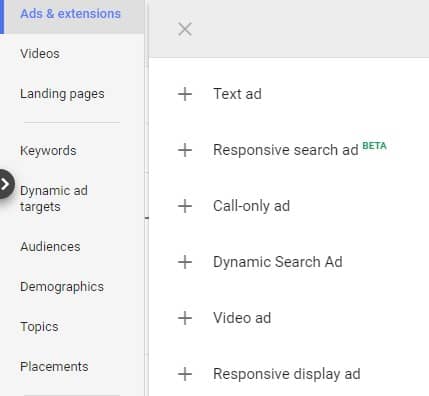 Once you select the responsive search ad it will ask you to select the ad group and from there on you will start seeing various options of headlines, final URL, Display URL, descriptions.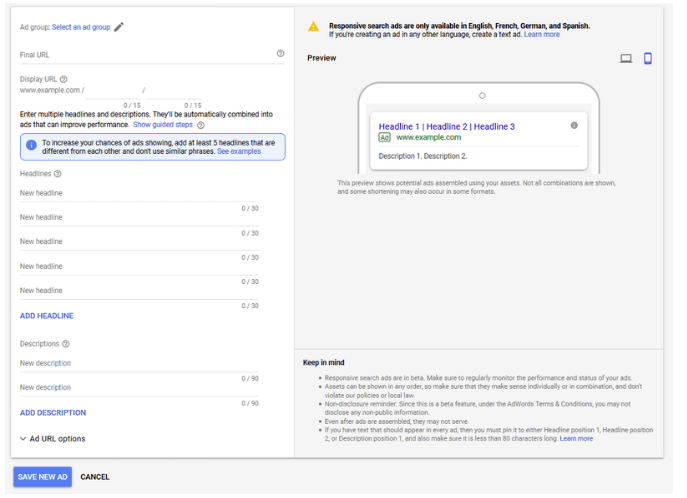 Once you are through with all the fields just click "save new ad" and the ads review process will start and once approved it will go live.
Some key points to remember:
It's not that every time the Responsive search ad will show all 3 headlines or the 2nd description. Depending upon the user's screen size and the page containing the ad will also be displayed. These ads work just like responsive display ads. In case the screen size is small like a mobile phone or at times when there is a lot of content on the SERP a user at that time might see less content of the responsive search ad. However, 2 headlines and a description will always be displayed which is more than an expanded search ad. As per Google's stats, Responsive Search Ads have a 5-15% higher CTR compared to standard search ads. But results will never be the same for all the advertisers, everyone should tend to follow best practices of the responsive search ads to have the best results.
If you want your responsive search ad to perform then try to highlight something different in all the 15 headlines and 4 descriptions as Google will try all the combinations when displaying the ad. Do not repeat the words that have already been used because Google might not display those if it finds them to be similar.
Don't forget to include your major keywords in at least 2 of the headlines.
Write headlines and descriptions of different lengths.
The headline or the description that you want to be displayed always in your ad can be "pinned".
Now Coming Over to the Latest Update!
New Reporting & Feedback Tool:
As per Google's new update, it is going to add new reporting and feedback tools to the responsive search ads which are: Auto-generated suggestions: During the creation of responsive search ads, Google will suggest headlines and descriptions that can perform better. Real-time feedback: Google ads will display a dynamically changing ad strength indicator when ads will be created. Ad strength in 'status' column: Google will also inform through the status column if the ad is losing impression or is disapproved. Import details from other ads: Headlines and descriptions might get imported from the existing ads to the responsive search ads. According to Google, an advertiser gets up to 10% more clicks when headlines and descriptions from the existing ads are used. More Languages: The Responsive Search Ads as of today are available in many languages besides English.
Danish
Dutch
Italian
Japanese
Norwegian
Polish
Portuguese
Russian
Swedish
Turkish
Cheers to many more upcoming updates of Google!!